Lindsay Stead (TAG's Managing Editor & Information Specialist) retires
20th December 2016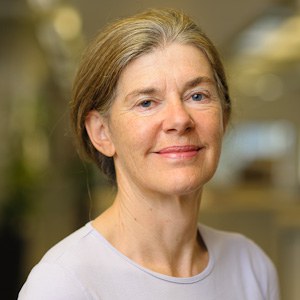 Lindsay Stead was one of the first members of the Cochrane Tobacco Addiction Group (CTAG) and has been with the group, writing reviews and supporting authors, for 20 years. This week Lindsay retired from her role as Managing Editor and Information Specialist approximately 2 days a week. However, she will continue to be involved with the group by supporting literature searches one day a month from January 2017. We are extremely pleased that Lindsay will continue to be affiliated with the group as her contribution to CTAG and the field of tobacco addiction and cessation in general has been enormous and greatly valued by her colleagues. As well as that Lindsay has been a wonderful colleague and we will miss seeing her around the office as often. We wish her all the best for her retirement. 
As a result of Lindsay's retirement Jamie Hartmann-Boyce will be increasing her hours working for the group (to 2.5 days a week) and Nicola Lindson will remain full-time. Therefore if you have any CTAG related queries moving forward please contact Nicola or Jamie.
---
The NIHR School for Primary Care Research 10 year anniversary showcase

22nd November 2016
The NIHR School for Primary Care Research (SPCR) kindly funded the Cochrane Tobacco Addiction Group Anniversary project (CTAG taps) in 2016. Therefore, Nicola attended the SPCR 10 yr anniversary showcase, held at the Wellcome Collection, London, UK , to present a poster summarising the methods used and findings from the project so far. You can view the poster by clicking on the thumbnail below. The day offered a great opportunity to gain an overview of the range and quality of the research that the school makes possible; which has contributed greatly to the growth of of Primary Care research in the UK.

---
The Cochrane Colloquium 2016; Seoul, South Korea
 23rd-27th October 2016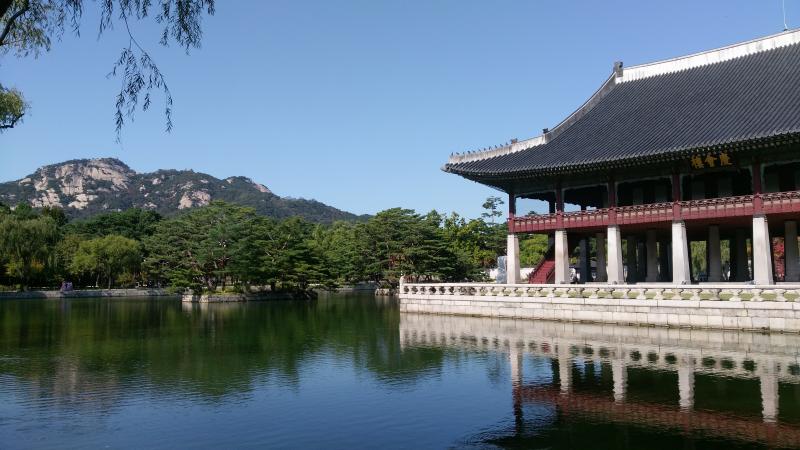 Our ME, Nicola Lindson attended the 2016 Cochrane Colloquium in Seoul, South Korea. The Colloquium is always a great conference to attend as everything is so relevant and Nicola attended many sessions which she will be able to share with the group and apply to our practice, from editorial training and carrying out DTA reviews to including brief economic commentaries in our reviews. Nicola also presented the methods of the Cochrane TAG's 20th anniversary priority setting project. The slides that she used can be seen below:
---
Harm reduction review updated
13th October 2016
The review 'Interventions to reduce harm from continued tobacco use' has been updated by members of the Cochrane Tobacco Addiction Group and colleagues from the University of Oxford and the University of Birmingham.
The review can be found here
The evidence available is limited and rated by GRADE standards as 'Low' or 'Very low'. However, there is evidence to suggest that using NRT to aid smoking reduction could be used by smokers who cannot or do not want to quit as a tool to help them cut down the amount they smoke, or could help them to quit smoking in the long-term, even if this isn't their original goal.
New additions to the review include studies of electronic cigarettes, snus and varenicline as harm reduction aids.
---
Guardian blog: Why can't scientists agree on e-cigarettes?
14th September 2016
To accompany the publication of our update of 'Electronic cigarettes for smoking cessation' our Managing Editor Jamie Hartmann-Boyce wrote a blog post for the Guardian newspaper's 'Sifting the Evidence' science blog. The aim of the blog was to address some of the conflicting evidence provided by experts on electronic cigarettes and explain the reasons for this to the public. The blog was well received, and can be found by clicking the image below: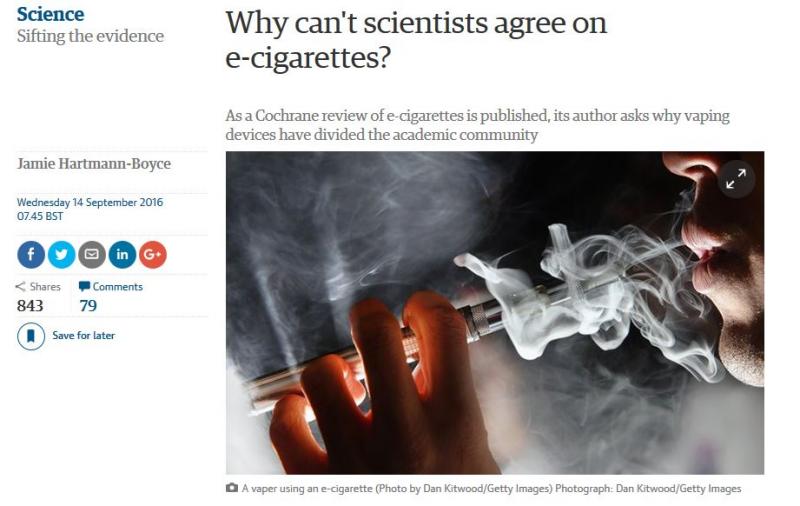 ---
Electronic cigarettes review updated
14th September 2016
The first update of our review of 'Electronic cigarettes for smoking cessation' was published at 23:30 BST on the 13th September 2016. It is available here. The conclusions of this review have not changed since the original publication in 2014, and are stated in the infographic below.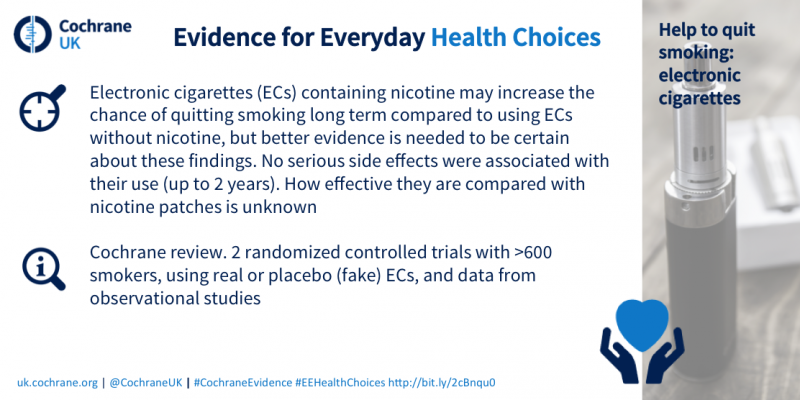 ---
Last week of the first stage of the Cochrane TAG 20th Anniversary Prioritisation Survey
24th March 2016
Our survey asking for your opinions on the questions that still need to be answered in tobacco research closes at the end of the day on the 31st March 2016. Click here to fill it in. To promote our final push on the survey we created a short video to give you a bit more information; featuring our Managing Editor Jamie Hartmann-Boyce:
---
Attending the Society for Research on Nicotine & Tobacco annual international meeting 2016 in Chicago
2nd - 5th March 2016
Managing Editors, Nicola Lindson and Jamie Hartmann-Boyce attended the annual scientific meeting of the Society for Research on Nicotine & Tobacco in Chicago USA. The main goals were:
1) To meet up with some of our authors and potential authors and support them to carry out their reviews;
2) To publicise our 20th anniversary priority setting project survey. The survey closes at the end of March and can be completed by clicking here.
3) Jamie presented a poster on the 20th Anniversary of Cochrane TAG and our plans for 2016. The abstract for the poster (POS5-64)  is available on page 20 here: bit.ly/1Zw5vE8
4) Nicola presented a poster on the preliminary results from the update of our Cochrane Review of harm reduction approaches for tobacco addicition. The abstract is available here: bit.ly/1Zw5vE8 (POS5-37; page 13)

5) To keep up to date in the field. For example we saw data from a large new trial investigating adverse events of varenicline treatment being presented for the first time. We will be including this data in the next update of our Cochrane Review of nicotine agonists for smoking cessation!
---
The first stage of our Prioritisation Survey is online!
18th February 2016
Please help to influence the future of tobacco control by clicking here, and to find out more about the project as a whole click here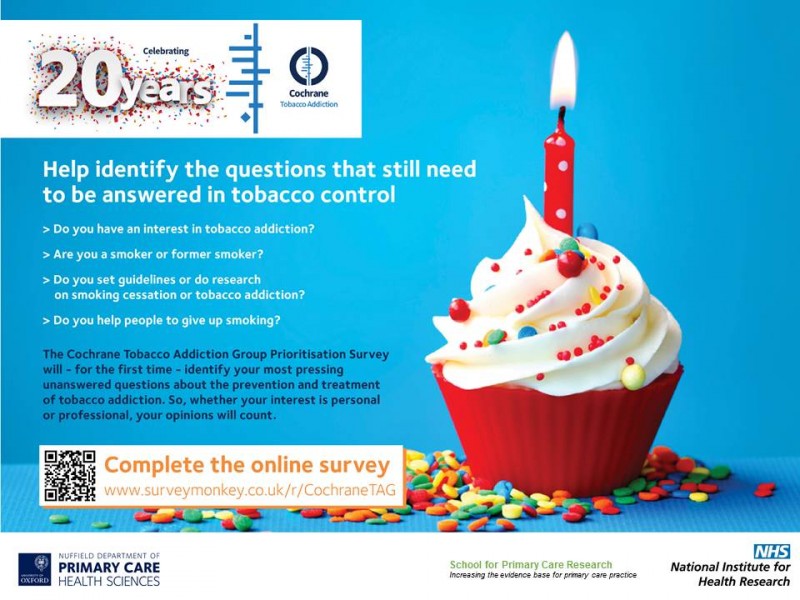 ---
The 20th Anniversary of Cochrane TAG
15th January 2016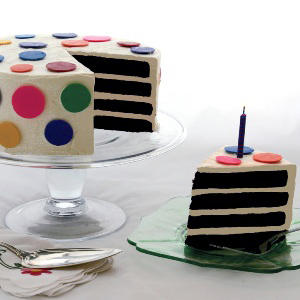 Happy New Year!
Cochrane TAG was founded in 1996 making 2016 our 20th Anniversary. As a result we have lots planned for the upcoming year. To keep you informed we've added some new pages to our website here
Keep checking back for exciting new developments!
---
Filtering the information overload for better decisions
22nd October 2015
Earlier this month Dr Nicola Lindson and Professor Rafael Perera attended the 23rd annual Cochrane international meeting to learn, recap knowledge, network and publicise the group. The meeting took place in the beautiful city of Vienna, offered a packed and relevant schedule and was thoroughly enjoyable. You can read a piece Nicola wrote about the experience here.
---
TAG Managing Editor- Kate Cahill- retires; 2015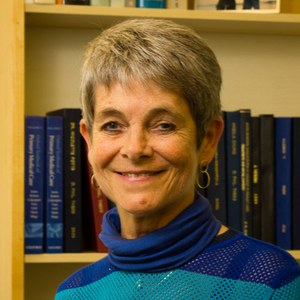 Kate Cahill began working with the Cochrane Tobaccco Addiction Group as Managing Editor in 2001 and has worked on many ongoing important and key reviews belonging to the group, including 'Nicotine receptor partial agonists for smoking cessation'; 'Incentives for smoking cessation'; 'Pharmacological interventions for smoking cessation: an overview and network meta-analysis'; and many more. In 2009 Kate was awarded the Chris Silagy prize for her extraodinory contribution to the Cochrane Collaboration, which illustrates the asset that she has been to the group. As does her commitment to continuing to work on the most recent update of the nicotine agonists review until completion (early 2016), despite having retired in August. As well as her amazing professionalism and knowledge Kate's presence in the office and at coffee mornings will be greatly missed, and we are glad to say that she will still be involved in Cochrane through her copy editing work.
We wish her a very happy retirement!
---
Cochrane TAG presentation about using our reviews and getting involved at UKCTAS ECR Conference 2015
16th September; University of Bristol UK
Managing Editors Nicola Lindson & Jamie Hartmann-Boyce attended the UK Centre for Tobacco & Alcohol Studies' (UKCTAS) Early Career Researcher Conference on their second day at the University of Bristol to  talk about Cochrane TAG. The aims of the presentation were to give an overview of Cochrane and more specifically the Tobacco Addiction and Drugs & Alcohol Groups; how to use Cochrane evidence and potentially get involved with review groups; and finally experiences of being involved with TAG and the opportunities this presented. It's always great to catch-up with UKCTAS colleagues and the conference was well organised by Olivia Maynard and Suzi Gage of the University of Bristol, Tobacco & Alcohol Research Group.
The presentation slides can be found below:
---
Cochrane Impact factor reports 2014
Congratulations are due to the Cochrane TAG team

Last week (26th August 2015) the Cochrane Impact Factor Reports were distributed to all the Cochrane groups and we were incredibly pleased to find that Cochrane TAG had fared particularly well. Some of the highlights of the report for us were as follows:
The 2014 CRG Impact Factor for the Tobacco Addiction Group is 19.667 (36 publications cited 708 times)- the second highest of all review groups. However, it should be noted that this is calculated based on Cochrane standards and these figures are not 'official'
Therefore, a review published by the Tobacco Addiction Group in 2012 or 2013 was cited, on average, 19.667 times in 2014
Reviews published by the Tobacco Addiction Group were accessed in full-text format on average 571 times during 2014 (216 articles accessed 123,394 times). This was the highest average across all of the review groups
Across all reviews published in the Cochrane Library in 2014 our review - Electronic cigarettes for smoking cessation and reduction - had the second highest Altmetric score (retrieved 27th July 2015) with 338 (the highest was 387)
---
Motivational Interviewing review update presentation at SAPC 2015
10th July; University of Oxford UK
Cochrane TAG Managing Editor, Dr Nicola Lindson attended the Society for Academic Care annual conference at the University of Oxford last week. She presented an update of the review Motivational Interviewing for Smoking Cessation, which can be found here: http://goo.gl/oXxQp5.
The presentation was delivered in an elevator pitch, which means there was only 3 minutes to explain the importance, results and implications of the research, followed by 2 minutes of questions.
Certainly a challenge! But she managed it and her slides can be found below:
---
Early bird registration for the 2015 Cochrane Colloquium ends on the 22nd of July
This years Colloquium takes place in beautiful Vienna between the 3rd and the 7th of October, and you can register here: https://colloquium.cochrane.org/registration-fees
This will be the biggest Colloquium ever!! And that is for good reason - Annual Cochrane Colloquia offer MUCH MORE than a typical conference:
TOP key note speakers - 4 of whom have done TED talks!!

5 time slots to visit 90-minute workshops - that is 7.5 hours of education. Choice of over 90+ workshops and two full-day workshops.

9 hours of oral sessions - SO MUCH CUTTING EDGE RESEARCH!

Special sessions from WHO, EMA, on trial registries and new sources of data, rapid reviews, and much more.

The first Colloquium since the re-brand; this is an incredibly dynamic and exciting time for Cochrane!
All for €990 if you register before 22 July 2015!
Come to Vienna, learn, network, exchange ideas, and support and engage with Cochrane!
---
Promoting Cochrane TAG at the UK Nicotine and Smoking Cessation Conference (UKNSCC) 2015
11th-12th June 2015
Manchester, UK
Cochrane TAG Managing Editor, Dr Nicola Lindson attended the UKNSCC 2015 conference to promote Cochrane TAG and to keep up to date in the world of smoking cessation. Attendees at the conference are in the main from a clinical background, giving the opportunity to disseminate results to those for whom it is most useful and to gain a different perspective.
Nicola wrote a blog about her experience for the UK Centre for Tobacco and Alcohol Studies, which can be found here
Next year's conference will be held on the 9th & 10th June 2016 at the Victoria Park Plaza, London